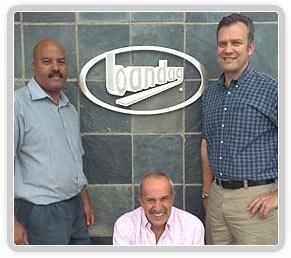 Founded in 1957 as a commercial franchisor, Bandag has over 1,100 franchised dealers in more than 100 countries world-wide, replacing almost 9 million truck and bus tyres a year.
The parent company was formed in 1957, when Roy Carver purchased the rights to a revolutionary precured retreading process from its German inventor, Bernhard Anton Novak.
The name Bandag comes from his original company – Bernhard Anton Novak Darmstadt AG.
Bandag first began its operations in Southern Africa more than 40 years ago. From the onset, quality has played an integral part of the 'Bandag way'. As proof of this quality commitment, Bandag SA, a globally compliant Bandag manufacturing facility, became the first company within the Bandag group to achieve ISO 9001, ISO 14001, ISO 26000 and OHSAS 18001 certification. With these certifications, fleet customers can once again rest assured that Bandag products are quality driven.
Today, the South African operations of Bandag are locally owned by way of a management buyout which took place during December 2004. The newly formed Bandag Southern Africa operates under a Technology Licensing Agreement which includes new tread products and support from the parent company.

Bandag – Leading the Retread Industry Worldwide.